This Podcast seeks to answer one simple question.
How do you build a business that people feel compelled to talk about?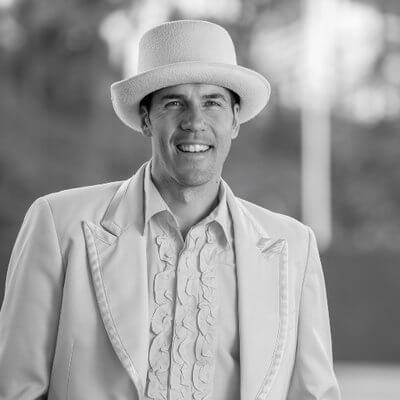 Jesse Cole - Founder of Fans First Entertainment
Jesse Cole is the founder of Fans First Entertainment and owner of two multimillion-dollar summer league baseball teams, the Gastonia Grizzlies and the Savannah Bananas. He's been featured on MSNBC and as a keynote speaker all over the country, promoting his motto "If it's normal, do the exact opposite."
I have been a fan for a while of Jesse's creative process and the risks he takes to create experiences that not only are unexpected but truly "fans first".
ALSO LISTEN ON:
Summary

Jesse Cole is the founder of Fans First Entertainment and famously known as the owner of The Savannah Bananas baseball team. He is a well sought-after business adviser and author of "Find Your Yellow Tux - How to Be Successful by Standing Out."

He started out by marketing his baseball team to sell tickets. Within a year, he was broke and his business was in trouble. Through this experience, he started to approach his business marketing in an out of the box way. He came up with something different and unique to make his business successful, and that is - Fans First, Entertain Always. Be Different. Be Remarkable. His great business practice is to have fun and do what you can to stand out in the world.
"Stop standing still. Start standing out."
"Be patient on what you want for yourself. But be impatient how much you give to others - you do that, everything else takes care of itself."
Jesse had shared his experiences and tips on how he was able to build his baseball business back up again, and be loved by the fans.


Takeaway points:
Create unforgettable and special experiences for your fans.

Challenge the things that have been done.

Do and Learn.

Do it differently.

Be organic and make this happen fast.

Trust: How you make people feel, build their trust.

Invest in your customer's experience and turn them into loyal fans. Let your fans do the marketing for you.

Talk about Gratitude: Be thankful.

He mentioned about the book Fanocracy by David Meerman Scott. The author talks about the science around how close you are to the performer creates a lasting impression and achieves fandom.
Jesse shares how he was inspired by Walt Disney's vision to always improve and "plus" experiences for your customers.

Jessie's biggest AHA Moment was during their One City world tour in Alabama. They sold 7K tickets in 24 hours. Fans didn't leave after the game had finished, instead they stayed to take player's autographs, players hanging out with the fans, and the fans sang Stand By Me.

From then on, at the end of every game, we sing Stand By Me with the fans.

Use powerful concise words with your products.
Jesse shared the 5 E's to have loyal fans:



Eliminate Friction
Entertain Always
Experiment Constantly
Engaged Deeply
Empower Action
Books mentioned in the show (will add links):